Toll-Free: (888) 831-1012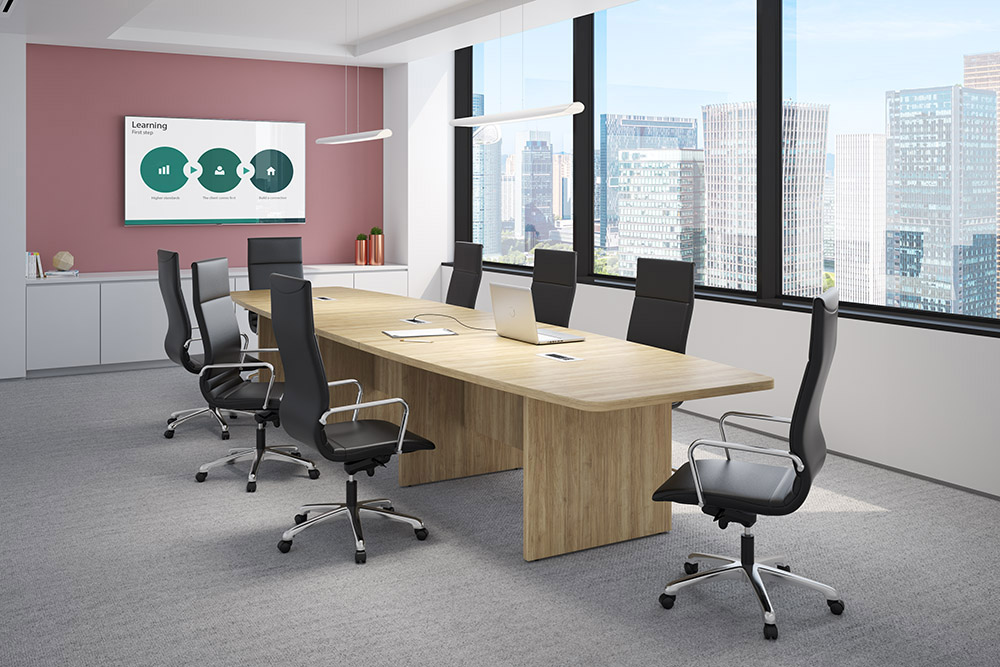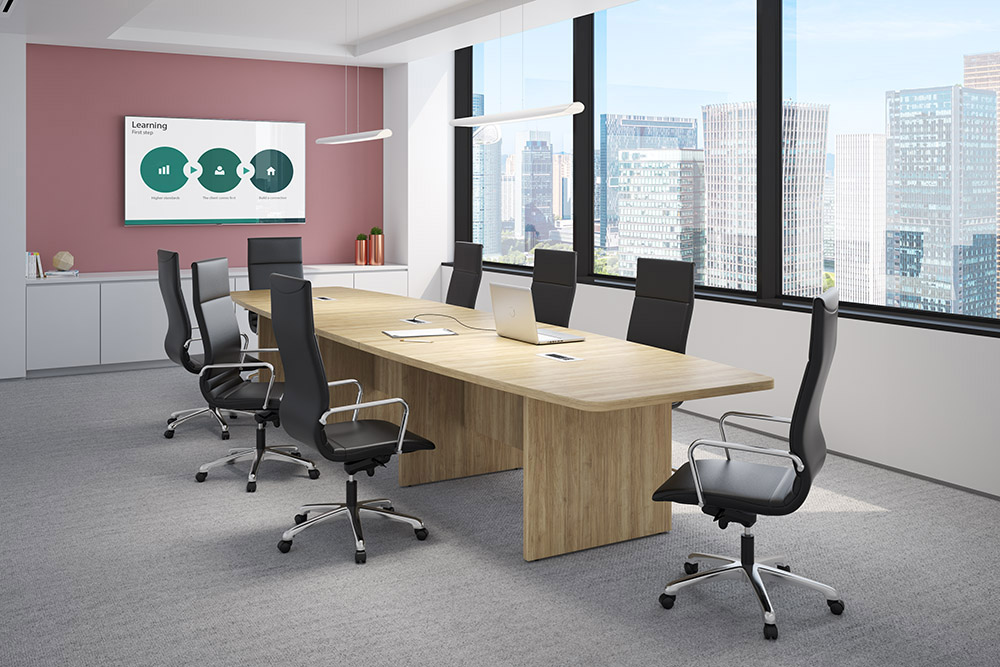 Affordable Conference Tables
What is a conference table? A conference table is a large table that provides a meeting space for the office or guest of the business. Conference tables are the centerpiece of an efficient conference room. The conference table creates the first impression for clients and staff. The conference room is where management meets with clients to discuss business, and for the office staff to meet for staff meetings, safety meetings, office parties, and any other office business. In many ways the conference table is the central hub of the office.
Selecting the conference table that fits your needs is very important. First, knowing the dimensions of the conference room will dictate the type of conference table that is needed. Tables come in many shapes and sizes. Tables come in the standard rectangular, round, and square shapes as well as boat shaped and racetrack. A boat shaped desk is a rectangular shaped table that flairs out on the long sides, whereas racetrack is a rectangular table with oval shaped corners. Along with these solid shaped tables, versatile modular options can be set up in multiple layouts such as T shape, U shape, or O shape. All designs vary in sizes and seating capacity. Knowing the seating capacity needed will help expedite the process of selecting your conference table. For style tables come in many colors and materials that will also dictate the affordability of your new conference room. Choosing a contemporary or modern design with hardwood or laminate materials is the first step to your affordable conference table.
Can conference tables be affordable? Yes they can! Determining your needs for a conference table, setting your budget is the first step to an affordable conference room table. Once you know your table capacity and your budget, reaching out to a proven seller of conference tables is the next step to finding an affordable conference room. A professional will help you balance affordability and quality to meet the needs of your office. A professional will guide you through the complicated conference room design process. High quality office furniture can still be affordable. Affordable is not a code word for cheap with the right design staff. The size and shape of the table, along with the materials used will determine the cost of your conference table.
Other considerations must be made when budgeting for an affordable conference table. Seating capacity dictates how many conference chairs are needed for your conference room. Selecting the table and chairs will set the style for your new conference room. Also, many office desks have a selection of power outlets, data hubs, and conference phone options to fit your specific needs. Don't forget to consider white boards and projects when calculating your budget for an affordable conference room. Encompassing all your needs for your conference room will determine just how affordable your table will be.
Once you have determined the cost and selected the conference table and accessories, installation is the next step to completing your conference room affordably. It is easy to overlook this step in the process of obtaining an affordable conference table. However, failing to plan this step could break your budget quickly. When working with your supplier, discuss up front the cost of installation. A good supplier will walk you through the process to completion. It is not recommended to attempt to skip the installation cost to save budget room. Most office furniture installation requires meticulous attention to detail, that should be left to the professionals. Professional installers have streamlined the process of installation through repetition that makes this faze more affordable to you. Office furniture installation should never be considered a "do it yourself" project. Most buyers realize this too late, and end up reaching out for assistance midway through their self-installation process, which will be a costly hit to the budget and completion schedule.
When selecting an affordable conference table, balancing quality and affordability within your budget should be a priority. When finding a trusted seller, they should have a wide variety of quality products with many style options to fit your budget. Selecting the wrong seller could ruin the entire experience of purchasing quality, affordable conference tables. Failure to balance quality and affordability could jeopardize your budget or leave you with a poor-quality piece of furniture that will need to be replaced in the near future. If you are in need of new, quality conference tables at an affordable price, conference room chairs and accessories, give us a call at (888) 831-1012 to speak one-on-one with our professional designers!